Rachel F. Moran
Dean, UCLA School of Law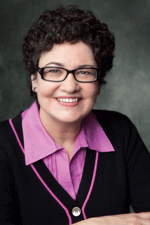 RACHEL F. MORAN is the dean and Michael J. Connell distinguished professor of law at UCLA School of Law. Moran is the eighth dean of the law school, and the first Latina dean of a top-ranked U.S. law school. She was previously the Robert D. and Leslie-Kay Raven professor of law at Berkeley Law School as well as a founding faculty member at the University of California, Irvine School of Law.
Moran, who teaches torts, education law, and race and the law, joined the Berkeley Law faculty in 1983 and received a distinguished teaching award from the Berkeley campus in 1995. From 1993 to 1996, she served as chair of the Chicano/Latino Policy Project, and from 2003 to 2008, she was director of the Institute for the Study of Social Change. In 2009, she became president of the Association of American Law Schools.
She has published and lectured extensively on affirmative action, desegregation and bilingual education. She is the author of Interracial Intimacy: The Regulation of Race and Romance (2001), co-author of the fourth edition of Educational Policy and the Law (2002) (with Mark G. Yudof, David L. Kirp, and Betsy Levin) and co-editor of Race Law Stories (2008) (with Devon W. Carbado). Her recent publications include "The Elusive Nature of Discrimination," 55 Stanford Law Review 2365 (2003); "Loving and the Legacy of Unintended Consequences," 2007 Wisconsin Law Review 241; "The Story of Lau v. Nichols: Breaking the Silence in Chinatown," in Education Law Stories 111 (Michael A. Olivas and Ronna Greff Schneider eds. 2008); "Rethinking Race, Equality and Liberty: The Unfulfilled Promise of Parents Involved," 69 Ohio State Law Journal 1321 (2008); "Let Freedom Ring: Making Grutter Matter in School Desegregation Cases," 63 University of Miami Law Review 475 (2009); and "Terms of Belonging," in The Constitution in 2020 at 133 (Jack M. Balkin and Reva B. Siegel eds. 2009).
Following her undergraduate education at Stanford and law school at Yale, Moran clerked for Chief Judge Wilfred Feinberg of the U.S. Court of Appeals for the 2nd Circuit and worked for the firm of Heller Ehrman White & McAuliffe. She has served as a visiting professor at UCLA Law (2002, 1988), Stanford Law School (1989), New York University School of Law (1996), the University of Miami Law School (1997), the University of Texas (2000), and Fordham University School of Law (1995).
Document Actions