News & Events
JUMP TO:
News
Press Releases
Media Coverage
Recent Events
news:
**NEW***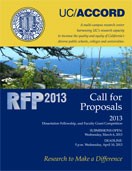 2013 UC/ACCORD Fellowship Competition
UC/ACCORD will again be accepting applications for Dissertation Fellowships and Faculty Seed Grants for eligible University of California doctoral students and faculty whose work aligns with our research goals.
For more information, to view the complete RFP and find local information sessions, click here.
Submissions Open: Wednesday, March 6
Deadline: Wednesday, April 10


2012 UC/ACCORD Fellows
Press Release: University of California grants promote educational equity, diversity
UC/ACCORD awarded 12 fellowships to doctoral students from five University of California campuses for their work in addressing educational equity across California's public school system.


Derrick Bell Legacy Award
Press Release: Solorzano honored for critical race work
UC/ACCORD Director and UCLA Professor Danny Solorzano will be one of seven academics nationwide to receive the inaugural Derrick Bell Legacy Award for their work in advancing social justice and educational equity.

2012 Call for Proposals
UC/ACCORD will soon accept proposals for the 2012 Fellowship competition
Submissions open: Wednesday, March 7

Deadline: Tuesday, April 27
2011 Fellows
This year, UC/ACCORD awarded 13 dissertation fellowships and one faculty seed grant. Learn more about the latest additions.
UCLA Community School Internships
First UC/ACCORD interns made video showing effects of budget cuts

Jobs & Opportunities
LITERACY RESEARCH CONTRACTOR, The Jewish Federation of Los Angeles County
DIRECTOR, Center for Research on Educational Equity, Assessment, and Teaching Excellence (CREATE)

Onward & Upward
UC/ACCORD Executive Board member Rachel Moran leaves Berkeley to head UCLA's Law School
Moran becomes first Latina dean of a Top 20 law program.

PRESS RELEASES:
Oct. 23, 2013 - University of California Fellowships promote research in educational equity and diversity
Oct. 9, 2012 - University of California grants promote educational equity, diversity
May 30, 2012 - Solorzano honored for critical race work
Nov. 3, 2011 - University of California research group announces newest fellows working to promote educational access, equity and diversity in California schools
Feb. 22, 2011 - UC/ACCORD executive director to hold information sessions on 2011 funding opportunities
Sept. 17, 2010 - Researchers win grants for work on school inequalities
Media Coverage:
Three Education PhD Students Receive Prestigious UC/ACCORD Fellowships - June, 2013, UC Davis School of Education
Fellowship grants help address education inequalities - Nov. 3, 2011, UC Newsroom
Interning for a future - June 6, 2011, UCLA La Gente
Awards for the exemplary - May 17, 2011, New University

Mary Bucholtz and Jin Sook Lee of Gevirtz School at UC Santa Barbara awarded 2010 UC/ACCORD Faculty Seed Grant - Nov. 30, 2010, Gevirtz School News
UC Awards 10 Equality Scholars - Sept. 29, 2010, Daily Nexus
Doctoral Student receives UC ACCORD fellowship - Sept. 2010, Berkeley gsE-news
Recent EventS:
June 18-19, 2012
UC/ACCORD Fellowship Finalist Interviews
WHAT: A handful of UC doctoral students, who were chosen as finalists for this year's UC/ACCORD Fellowship Grant Competition, will make presentations before the Board of Directors. This is the last step before the latest crop of UC/ACCORD fellows are chosen.
LOCATION: UCLA
Nov. 4-6, 2011
11th Annual UC/ACCORD Conference
WHAT: The newest members of the ACCORD family--13 Dissertation Fellows and one Faculty Seed Grant recipient--will present their research during the annual conference. Also attending will be a select few of last year's fellows, who will give updates on their work.
LOCATION: UCLA Conference Center, Lake Arrowhead, Calif.
INFORMATION: Press Release | Fellow Profiles

Dec. 3, 2010
SAVE ETHNIC STUDIES TEACH-IN

WHAT: Prof. Danny Solorzano's graduate students will host a delegation from Arizona's Tucscon Unified School District to discuss the state's "Anti-Ethnic Studies" law (AB 2281). The presentation will provide information about the law, the lawsuit challenging it, and a 10-minute clip from the "Precious Knowledge" documentary, profiling the school district and students.
AB 2281 goes into effect on Dec. 31. It will ban ethnic studies from kindergarten through 12th-grade, including Mexican American Studies.

TIME: 2 p.m. - 5 p.m.
LOCATION: Ackerman Grand Ballroom, UCLA Campus, 405 Hilgard Ave., Los Angeles.
INFORMATION: Press Release | www.SaveEthnicStudies.org
Document Actions